COVID-19 Testing Solutions Alpha CHECKPOINT is a global distributor of COVID-19 IgG/IgM Antibody and SARS-CoV-2 Antigen Rapid Testing Kits. We are actively supplying  testing kits to local, state and federal governments, as well as businesses, health care networks and communities across the world.  Alpha CHECKPOINT not only provides the necessary testing supplies, but partners with clients to build comprehensive testing programs for communities across the world.
Our test kits are portable and can be performed anywhere with ease, without the need of analyzers or machines.

Rapid testing kits are ideal for use at the point-of-care by healthcare providers.

Our direct relationship with the manufacturer allows us to offer customers the best possible pricing with unparalleled customer service.

All necessary reagents provided in kit – no additional equipment necessary.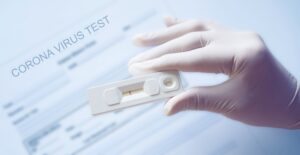 Per the FDA, "a positive antigen test result for COVID-19 indicates that antigens from SARS-CoV-2 was detected, and therefore the patient is infected with the virus and presumed to be contagious. Laboratory test results should always be considered in the context of clinical observations and epidemiological data (such as local prevalence rates and current outbreak/epicenter locations) in making a final diagnosis and patient management decisions. Patient management should be made by a healthcare provider and follow current CDC guidelines. A negative ANTIGEN result does not rule out COVID-19 and should not be used as the sole basis for treatment or patient management decisions, including infection control decisions. Antigen tests are known to be less sensitive than molecular tests that detect viral nucleic acids. The amount of antigen in a sample may decrease as the duration of illness increases. Specimens collected after day 5 of illness may be more likely to be negative compared to a RT-PCR assay. Therefore, negative results are presumptive and confirmation with a molecular assay, if necessary, for patient management may be performed. It is possible to test a person too early or too late during COVID-19 infection to make an accurate diagnosis."
Per the FDA, "a positive test result with the SARS-CoV-2 antibody test indicates that antibodies to SARS-CoV-2 were detected, and the individual has potentially been exposed to COVID-19. Antibodies to SARS-CoV-2 are generally detectable in blood several days after initial infection. Individuals may have detectable virus present for several weeks following seroconversion. If IgG antibodies are present, it often indicates a past infection but does not exclude recently infected patients who are still contagious. It is unknown how long antibodies to SARS-CoV-2 will remain present in the body after infection and it is not known if they confer immunity to infection. A negative test result with this test means that SARS-CoV-2 specific antibodies were not present in the specimen above the limit of detection. However, patients tested early after infection may not have detectable antibodies despite active infection; in addition, it is not certain that all infected patients will develop a detectable antibody response to SARS-CoV-2 infection. A negative result should not be used to rule out infection. Direct testing of SARS-CoV-2 should be performed if acute infection is suspected."
CONTACT US TODAY TO SCHEDULE YOUR FREE TESTING PROGRAM CONSULTATION!
PERSONAL PROTECTIVE EQUIPMENT (PPE)
Since the outbreak of COVID-19, we have partnered directly with PPE manufacturers to help procure the personal protection needed. We know that obtaining PPE is difficult and we want to offer our reliable, fully vetted, resources to assist you. We have access to nitrile gloves, masks, and sanitizers. If you are an entity in need, and able to order in large quantities, please contact us for more information.
Nitrile Gloves

Sanitizer

Masks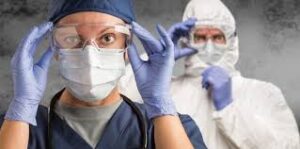 With an established history of professional and healthcare/medical industry expertise, Alpha CHECKPOINT has been able to seamlessly partner directly with global manufacturers to assist in the procurement of needed COVID-19 vaccines.